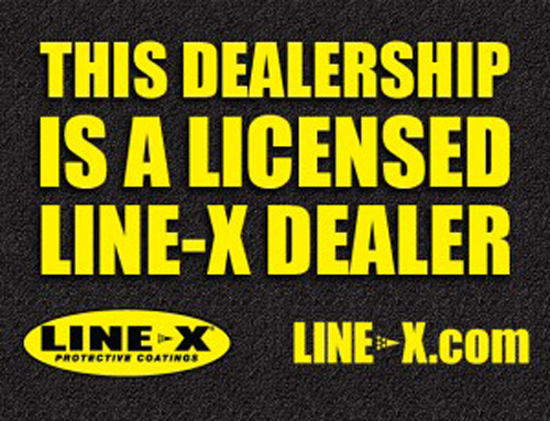 Spray In Bedliners
Portland's # 1 source for spray in bedliners
NW Running Boards is now offering LINE-X in our store! Remember, not all bedliners are the same!
If someone says its just like LINE-X its just not true…..call us at 503-655-0987 and ask why

NW Running Boards is a LINE-X  factory authorized dealer. For you that means peace of mind knowing we have been trained to do the job right. What is a LINE-X bedliner? LINE-X materials superiority lies in its base material, POLYUREA which withstands high temperatures (up to 350 F) and has super high strength. LINE-X.is applied using high heat and pressure to bond instantly in a uniform manner which allows you to get a nice even coating on every surface. You get a solid bond to every surface making  LINE-X one of the nicest looking and toughest liners on the market today.  LINE-X can be applied on virtually any surface whether it be a truck bed, wheel flares, rocker panels Etc. You can be assured that with LINE-X you will receive a nice factory appearance on any surface.
Remember, not all spray in bedliners are the same! You might have noticed that some spray in bedliners can look grey or chalky. Our product has a lifetime warranty and NW Running Boards has been serving Portland since 1970 so you know we will be here if you ever have a problem!
THE LINE-X® DIFFERENCE
LAB TESTED, REAL-WORLD APPROVED
Every LINE-X Spray-On Bedliner is applied by trained professionals who take pride in their work. LINE-X not only offers award-winning products but craftsmen dedicated to spraying the highest quality bedliner for you.
QUALITY CONTROL
Each LINE-X Spray-On Bedliner receives a multi-point quality check inspection before and after the application. LINE-X is applied to a truck bed after an extensive prep process in which the tailgate, bed bolts and tie downs are removed. LINE-X professional applicators take time to examine the quality of their work and measure the thickness of every bedliner. LINE-X bedliners are measured to a thickness of 125 mils – the ideal thickness for optimum utility in a truck bed.
LIFETIME WARRANTY
We are so confident in the quality work of our 400+ North American Franchises that we offer a Lifetime Warranty on all our Spray-On Bedliners. A LINE-X Spray-On Bedliner is guaranteed not to crack, bubble or flake for as long as you own your truck. Plus, even if you damage your truck and it's not covered by the warranty, LINE-X can still be seamlessly repaired by your local LINEX.
PRODUCT VARIETY
LINE-X Spray-On Bedliners are designed to meet the needs of every truck owner, whether you're a farmer, hunter, soccer coach, do-it-yourselfer or contractor. LINE-X has products for customers looking for color, UV protection, superior toughness or all three.
CUSTOMIZATION
LINE-X offers protection at every angle and in any color. A LINE-X Spray-On Bedliner does not conform to a factory setting but can be applied to any make, model, and size, over or under the rail. Say you want an over the rail, UV stable bedliner in your company's color that is 300% tougher than the industry standard? Yeah, we can do that.
ADVANCED PROTECTION
Every professionally applied LINE-X Spray-On Bedliner contains tough polymers engineered to withstand years of heavy-duty use in the searing heat or arctic cold. With a higher tensile strength than our competition, LINE-X provides unmatched protection against gouges, rips and tears. Independent tests show that LINE-X Spray-On Bedliners are resistant to most chemicals including chlorine, gasoline, diesel fuel, bleach and most household solvents.
LINE-X® Spray-On Bedliners are resistant to most chemicals including chlorine, gasoline, diesel fuel, bleach, and most household solvents.LINE-X® is the most technologically advanced spray-on bed liner and protective coatings on the market today.