Bed Rail Caps
Bed Rail Caps for Pickup Trucks
Bed rail caps for pickup trucks, along with tail gate caps and bulk head caps offer complete protection as well as a nice finished look to any truck bed. These DeeZee Caps come in several styles, such as Brite Tread, Black Tread, Hi Luster, Stainless Steel and ABS Plastic. All the bed rail caps are vehicle specific, they are also offered with or without stake hole pockets.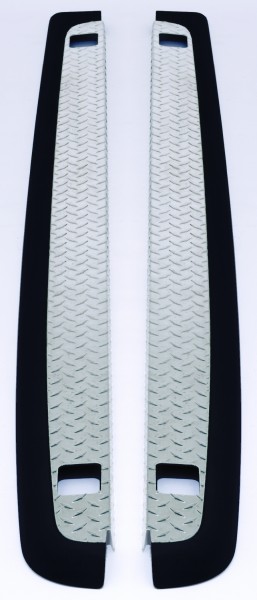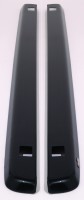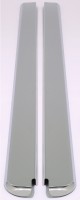 Bed rail caps for pickup trucks in Dee Zee, Inc. guarantees the original purchaser a limited lifetime warranty against manufacturer defects in materials, workmanship and design under normal use excluding damage resulting from road hazards such as gravel or other debris, product misuse, improper installation, impairments from accidents, product modifications, spills, vandalism, or product neglect.
Wear items such as shocks, latches, keys, hinges, step pads, seals, etc. have a one-year warranty. Replacements of these items are non-returnable non-refundable items. This warranty applies only to new products and is limited to the repair or replacement of genuine Dee Zee products. Warranty does not include electrical components, light bulb replacement, and cost of removal, installation, labor, transportation costs, and loss of use, inconvenience or consequential damages.
A modification of any kind to Dee Zee product voids all warranties. The original purchaser may be required (at Dee Zee's sole discretion) to return the defective merchandise, provide a photograph, or provide the original purchase receipt to the original place of purchase or Dee Zee, Inc.
MATERIALS & WORKMANSHIP WARRANTY TERMS
Limited-Lifetime Warranty:
STAINLESS STEEL: Side Steps, Grill Guards, Bull Bars/Sport Bars, Bed Caps, Storage Boxes and Side Moldings.
ALUMINUM: Side Steps, Storage Boxes, Running Boards, Transfer Tanks, Bed Protections and Cab Racks.
PLASTIC: Storage Boxes and Bed Caps.
Three-Year Warranty:
COATED STEEL: Side Steps, Running Boards, Storage Boxes, Job Site Boxes and Transfer Tanks.
OTHER PRODUCTS: Tailgate Assists, Floor Mats, Bulbs, Plastic Running Boards
TRANSFER TANK PUMPS & ACCESSORIES
All GPI products including transfer tank pumps and related items are covered by the GPI warranty. To submit a warranty claim, please contact GPI directly at (800) 835-0113. Dee Zee, Inc. warranty terms do not apply to GPI products. You may also visitwww.GPI.net
FINISH PROTECTION & FINISH WARRANTY TERMS
Dee Zee products have a high quality finish that must be cared for like any other exposed finish on the vehicle. Protect the finish with a non-abrasive automotive wax, (e.g. Pure Carnauba) on a regular basis. The use of any soap, polish or wax that contains an abrasive is detrimental, as the compounds scratch the finish and open it to corrosion. The finish of all Dee Zee products is covered for 1 year from the date of purchase. Claims submitted after one year from the date of purchase are subject to review, and are covered at the sole discretion of Dee Zee, Inc.
DISCLAIMER
Buyer assumes all risk and liability for the installation and use of Dee Zee products. Dee Zee products are sold as appearance accessories and should not be relied upon as protection for the vehicle or its occupants in the event of a collision or roll over. Vehicles equipped with a supplemental restraints system (air bags) deployed by impact should not be modified in any way. Always consult the vehicle manufacturer if you have any questions regarding supplemental restraint systems. Dee Zee, Inc. assumes no liability for injury, loss, incidental or consequential damages in the event of an accident.
WARRANTY SUBMISSION PROCEDURE
In order to ensure a prompt and efficient review of your claims, please review the following procedure before submitting your claim:
1. You must register your product at www.deezee.com.
2. Please read the above terms and conditions to ensure that your product is eligible for warranty coverage.
3. Contact us at (800) 779-2102 (You may be directed back to the original place of purchase).
4. Be sure to have your original receipt, and be prepared to describe the issue. Photographs may be required.